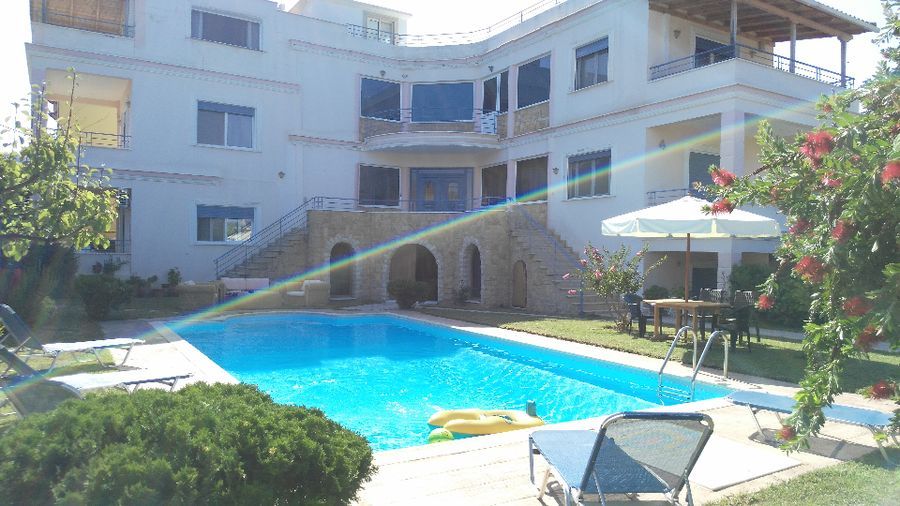 Key Features
#6063619
Heating System
Autonomous heating system (Petrol)
Available since
Available now
Internal
2 Living rooms, 2 Kitchens, Floors type: Ceramic tiles, Air condition: Yes, Attic: Yes, Fireplace: Yes, Playroom: Yes, Secure door: Yes, Elevator: Yes, Furnished: No, Internal staircase: Yes, Frames type: Aluminium, Double glass: Yes, Window screens: Yes, Painted: Yes, UnderFloor Heating: No
External
Garden: Yes, Lot size: 1000 m², Balcony: Yes, Size of balconies: 100 m², Awning: Yes, Road type: Asphalt road, Orientation: East meridian
Extra
New development: Yes, Luxurious, Holiday home, Storage space: Yes, Solar water heating: Yes, Alarm: Yes, Satellite receiver: Yes, Airy: Yes, Bright: Yes, View: Yes, Penthouse: Yes, Swimming pool: Yes, Average monthly shared expenses: 0 €, Pets welcome: Yes, Facade: Yes, Corner: Yes, Residential zone, Renovated: No, Renovation year: 2006, Requires renovation: No, Preserved: No, Investment: Yes, Neoclassical: No, Unfinished: No, Night power: Yes, Suitable for commercial use: Yes, Distance from sea (m): 250 meters, Energy class: A
Property
Description
Constructed over three floors, it has an elevator, 2 big lounges, 2 fully equipped kitchens (fridge-freezers, dish-2washers, ovens, microwaves, etc).
There are 5 big double bedrooms, office of 25sqm, an attic-room of 50sqm with a sea view and a basement/wine cellar/storage room. Each floor has an autonomous heating system. There are 2 big fire places, 4 bathrooms, 1 with Jacuzzi.
All the verandas have a sea view, sliding patio-doors and windows constructed of triple glass aluminum frames with electric shutters.
There is a large garden with grass lawn, citrus trees and a swimming pool of 50sqm. Built in tiled roof electric barbecue, village style domed wood burning oven, with a sink with running water and a small garden fridge.Alongside a marble table to seat 12 people.
There are security cameras with a central viewing and control panel. Alarm system and satellite antenna.
Parking spaces for 4 cars, automatic steel garage sliding door and all round marble built fence with steel bars and cypress trees around the fence for complete privacy.